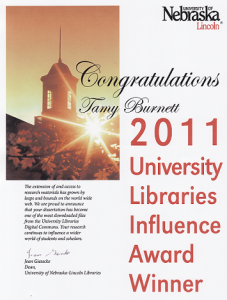 August 2011: During its first year following completion, my dissertation was recognized by the University of Nebraska-Lincoln Libraries for being among the top twenty downloaded dissertations  during the 2010-2011 academic year (July-June).
Just a Girl: The Community-Centered Cult Television Heroine, 1995-2007
My PhD dissertation, Just a Girl, examines constructions of the cult television heroine at the start of the twenty-first century, focusing on the ways in which cult heroines of this time period are defined by their youth and connections to communities. Through the application of feminist theories of heroism, community, and activism, as well as visual media performance theory, I offer close readings of the televisual texts Xena: Warrior Princess, Buffy the Vampire Slayer, Dark Angel, Firefly, and Veronica Mars. I explore how the central heroic girls and young women in these shows create, revise, and challenge our understanding of the heroic role, ultimately offering complementary visions of communal, participatory heroism as means for combating social injustices and corruption. I expand previous scholarship examining the cult television heroine's engagement with heroic archetypes by offering a new conceptualization of the cult heroine as an active and recognized part of her community. These constructions model feminist approaches to collective action, including intergenerational mentorship, global community activism, family-like community structures that nurture girls' agency, and collaborative action undertaken by allies with a shared goal of social justice. These heroines help create new understandings of community in which power is shared and all community members may exert heroic agency, ultimately leading to a stronger, more sustainable means of effecting social change.